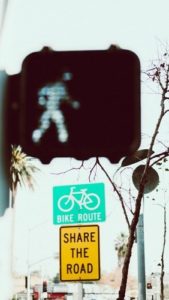 In March 2018, the first pedestrian in the United States was killed by an autonomously driving car, a woman walking her bicycle across Mill Avenue in Tempe. The car, operated by Uber and with a human "safety" driver at the wheel, ran into 49-year-old Elaine Herzberg as she walked across the road. Uber has since halted its testing of self-driving cars in Arizona, but the tragic fatality shines a light on pedestrian safety and rights in the Valley.
The Centers for Disease Control and Prevention (CDC) reports pedestrians are one-and-a-half times more likely than those in cars to be fatality victims in a car crash on each commute. In February 2018, the Governor's Highway Safety Association released a report that shows Arizona has the highest rate of pedestrian deaths in the country. Pedestrian deaths in Arizona increased from 2016 to 2017, rising to 1.61 fatalities per 100,000 people. Arizona's rate is nearly double the national average.
Arizona is a state where walking outside is often a joy because of beautiful weather and scenery. Unfortunately, pedestrians must also be aware of the dangers they face every time they share the road with cars and other hazards. Here are some risk factors in Arizona that contribute to higher pedestrian accident likelihood.
Driver Negligence
Driver negligence that puts pedestrians in danger includes actions like distracted driving, failure to stop, speeding, intoxicated driving and backing up into pedestrians.
Smartphone usage while driving can also contribute to pedestrian serious injuries and deaths, with up to 9 people killed and 1,000 people injured a day in the U.S., due to driving while distracted by things like smartphones.
Alcohol or Drug Use
Alcohol and drug use by both drivers and pedestrians increases the risk of an accident. Pedestrians may trip into a street, not be aware of their surroundings, or move illegally while intoxicated.
Pedestrians coming out of events where alcohol was served, such as sporting events or concerts, should be especially vigilant of drivers around them who might be intoxicated.
City Nightlife
The CDC reports most pedestrian deaths occur in urban areas and at nighttime. There is a multitude of risk factors in these environments. Drivers may not be aware of one-way streets and may drive on the wrong side of the road. These are areas where events with large audiences occur, which increases foot traffic and vehicle traffic and makes areas more congested.
Dim lighting may make street signs harder to spot. It's imperative to follow any police traffic control and pay attention to all signage and vehicles around you if you're a pedestrian.
Unsafe Road Conditions
Any type of road or pavement condition that creates a risk factor also has implications for accidents causing serious injury or death. Unsafe road conditions may include potholes, cracks in the pavement, uneven pavement or slippery walkways.
Inclement weather puts pedestrians at higher risk. Rain or snow can cause visibility issues for drivers, and increase slip and fall risk for pedestrians. Pedestrians should pay attention to construction signs and watch where they are stepping to avoid falling into traffic.
High-Traffic Areas
The CDC reports that higher vehicles speeds increase the likelihood of pedestrian/vehicle accidents, as well as increase severity of injuries. These are just a couple reasons why there is limited pedestrian allowance on freeways or on medians on high-traffic roads.
Pedestrians must always walk on designated sidewalks when they are available. Walking in traffic is never advised. Pedestrians should be especially careful when they're in areas where a significant amount of cars are driving into or out of the locations.
Wildlife and Dogs
Encountering animals on the road without the protection of a car can be a scary experience. Seeing a snake, being exposed to a dog running out of a yard, or other wildlife encounter situations pose a risk. Pedestrians might run away from the animal and into oncoming traffic.
If you have wildlife fears, you may be better off taking public transportation than walking in areas where you might run into a coyote or the like. If you are walking, like any other situation, be aware of your surroundings at all time. Avoid burying your head in a smartphone or wearing music earbuds. Listen and look around to see potential hazards so you can move away safely.
Know Your Rights: Get Help After a Pedestrian Accident
According to Arizona law, pedestrians have right-of-way at crosswalks where they are directed to walk, unless traffic control signals are not in place or are not in operation. However, entering a crosswalk that does not have a cross signal or green light is illegal. When pedestrians have right-of-way, vehicles behind cars that are stopped and waiting for a pedestrian to cross may not pass the car in front of them.
Both pedestrians and motorists must follow certain laws to keep everyone on the road safe. If you're a pedestrian who is in an accident when you have the right-of-way, other drivers' negligence may be to blame for your accident.
Contact the Millea Law Firm for assistance for pedestrian accidents. Matt Millea is an experienced Phoenix pedestrian accident lawyer who will fight for you. Get a free consultation online or by calling (480) 462-5540.