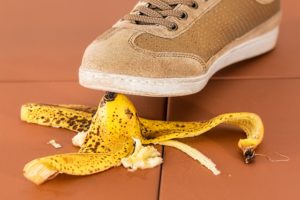 You've been injured on the job – now what? Whether you work in construction or in a grocery store, getting hurt at work can be a jarring experience. There were 2.9 million nonfatal workplace injuries and illnesses at American workplaces in 2016, reports the Bureau of Labor Statistics, and more than 5,000 people died while on the job that same year. Falls, object strikes, respiratory dangers and hazardous energy are just a few causes for workplace injuries.
Sometimes, negligence on behalf of the employer is to blame for unsafe working conditions. To protect your rights during the stressful time of a workplace injury, be sure to follow these steps to get the compensation you deserve.
Stay Calm, and Ask for Help
If you've been struck by an object or slipped and fell, don't move, and ask a coworker for help. If the injury is severe, ask for emergency services to be called. Be very careful with your body, and do not move it if it is painful.
Alert a Manager Immediately
Make sure that a supervisor or manager is aware of your injury and gets you help.
Do Not Claim Blame
No matter what the circumstances of the accident are, do not admit fault to a coworker or supervisor.
Take Note of the Scene
Mentally take notes of what happened during the accident and what the scene looks like now. Also, be aware of anything a coworker or manager says that describes the accident conditions. Statements like, "We should have put up a sign that the floor was slippery," or, "I knew that shelf was wobbly last week," are important indicators that negligence may have been to blame for your accident.
Fill Out a Claim with the Industrial Commission of Arizona
Businesses in Arizona should have workers' compensation insurance to offer protection for on-the-job injuries. If eligibility requirements are met, injured workers in Arizona receive medical and compensation benefits after they fill out a claim with the Industrial Commission of Arizona. This form must be filled out within one year of the injury in order to be eligible for compensation.
The Occupational Safety and Health Administration requires that any injuries at a workplace where 10 or more employees work should be reported. In addition to compensation for medical costs, if you are unable to work temporarily or permanently due to your injury, you may also be eligible to receive compensation for lost wages.
Document What Happened
Write down your statement of the conditions of the scene of the accident, what caused it, and the reactions you encountered after your injury so that these details are accurately recorded. If you receive medical attention, create a folder where you can store all medical records for your injury. Let your doctor know that you are receiving medical attention because of a work-related injury.
Be Aware of Non-Immediate Injuries
Unlike broken bones, fractures or head injuries, some injuries suffered at the hands of a workplace are not immediately noticeable. For example, dangerous substances or chemicals can cause illnesses like chemical poisoning or asthma. Other times, repetitive motions done at a job without adequate rest or without proper training can cause issues like carpal tunnel syndrome. Work conditions may also make a pre-existing condition more severe, which constitutes an injury.
If you suspect foul play is ever occurring at your job in regards to your health and safety, you should document details, talk with a supervisor about your concerns, monitor what actions are taken, and get medical help when you need it.
Consult with a Workers' Compensation Lawyer If Negligence Is to Blame
If you believe unsafe working conditions caused your accident or illness or made your accident more severe, and that negligence on behalf of your employer made the conditions unsafe, it is vital to consult with a Phoenix personal injury attorney. The business may be putting other workers at risk with unsafe practices.
You should also contact an attorney if you feel that the compensation you receive is not adequate, or if your claim is denied. An attorney can help you file a request for a hearing, fight on your behalf, and request an appeal if necessary. If you decide to file a personal injury claim against a business, having an experienced personal injury attorney will help you to fight their team to get the compensation you deserve for medical bills, pain and suffering.
The Millea Law Firm has extensive experience in construction accident law and can also assist with other severe personal injuries that occurred while working. Call (480) 462-5540 for more information, or contact Matt Millea online for a free Phoenix personal injury consultation.